To celebrate the Year of the Tiger, a number of countries have issued limited-edition stamps with intricately detailed designs and meaningful elements rooted in their respective cultures and traditions.
On January 22, 2022, France Post issued a set of 2 stamps for the Year of the Tiger.
The United Nations Postal Administration (UNPA) on Friday issued a special-event stamp sheet to celebrate the Chinese Lunar New Year.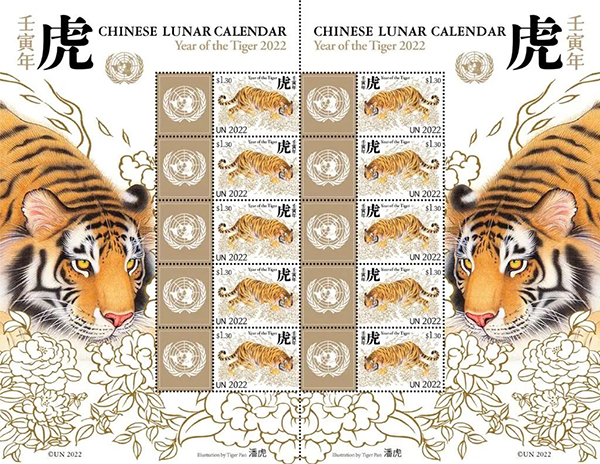 The stamp sheet consists of 10 stamps of a denomination of 1.30 US dollars each, with the UN logo on the left and a gongbi-style (meticulous painting) tiger among roses on the right, as the Chinese lunar year for 2022 is the Year of the Tiger.
French postal service company La Poste on Saturday issued two stamps to celebrate the upcoming Chinese Lunar New Year of Tiger, which starts on Feb 1.
Featuring a crouching tiger on a red background, one stamp applies to the domestic mail service in France for a face value of 1.16 euros.
The other, with a standing tiger looking to the distance on a blue background, has a denomination of 1.65 euros for international mail service.
Chinese Ambassador to France Lu Shaye said at the ceremony that the zodiac is an important part of Chinese folk culture. Tiger is the "king of beasts" in China, a symbol of justice, majesty and strength, and it also bears witness to the extraordinary efforts of contemporary Chinese people in biodiversity conservation and the harmonious coexistence of man and nature.
China first issued zodiac stamps in the 1980s, and it is now the fourth round. There are more than 100 countries and regions in the world that issue zodiac stamps,such as Belarus,Vietnam, Liechtenstein, Singapore, Australia,Armenia, Mongolia, New Zealand, etc.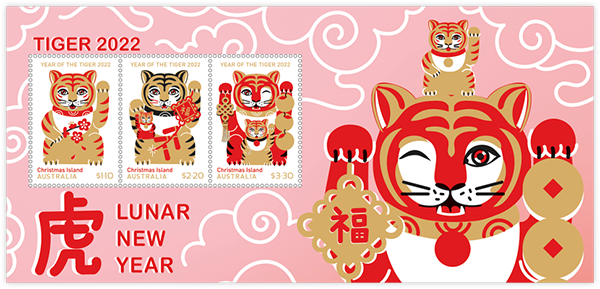 Chine Lunar New Year is drawing comes on 1st of Feb. Grandcorp are in in holiday from 29th of Jan. 2022 to 7th of Feb.2022. Wish all friends from all over the world wonderful 2022, and a wonderful year of the Tiger!